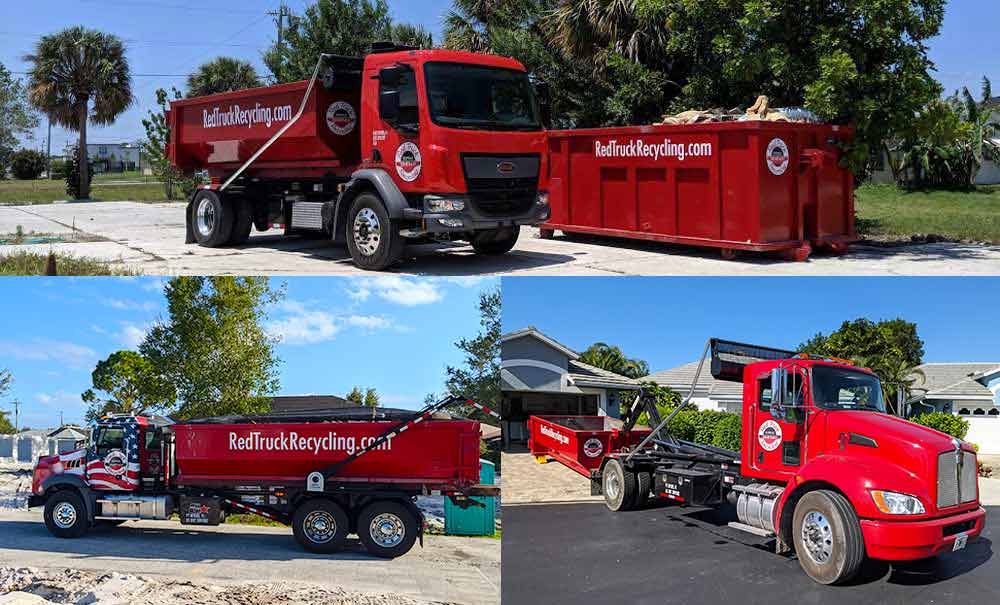 We are Southwest Florida's Elite Roll-Off Container and Cleanup Service.
At Red Truck, we'll handle your disposal needs with transparent pricing, superior service, responsiveness, and partner discounts, making us your first choice, every time.
Read More
Rent Dumpsters in Southwest Florida
From The Company You Can Trust
Trust Red Truck to handle your disposal and cleanup needs. We deliver small and large dumpsters to residential sites, businesses, homeowners, and construction sites. Our grapple trucks remove bulk waste, construction debris, yard waste, horticultural waste, and pallets quickly and hassle-free. We also offer our excavator services for land clearing, site cleanup, and demolition clean-up.
Call or text to get a Free Quote for dumpsters in Southwest Florida – 239-877-6511
Renting A Dumpster Has Never Been Easier
We know what you need, and we keep it simple. Just choose your bin size and check off the materials you're dumping to request a quote. We'll get back to you quickly and can even provide SAME DAY SERVICE!
Show Less

Red Truck Recycling is "top shelf". They are prompt and go the extra mile to provide excellent service. Red Truck is the only choice in debris containers for me.
-Elizabeth Sterbens

Chris and his team were fast and affordable. They were also very knowledgeable as to the size of container we needed for our reno…. I highly recommend Red Truck Recycling!
-Andrew Delville
To Schedule Dumpsters in Southwest Florida Or For A Quote, Call Or Text 239-877-6511
We serve Southwest Florida — throughout Lee, Collier and Charlotte Counties, including Fort Myers, Naples, Port Charlotte, Cape Coral, Bonita Springs, North Port, Punta Gorda and Marco Island.
Read More
Excellent Service, 100% Satisfaction Guaranteed
Transparent Pricing
We don't surprise you with hidden expenses. Our pricing is competitive, and our professionalism is unmatched. You can even access your invoices online.
Friendly & Reliable Service
We would love to answer all of your questions, please Call or Text 239-877-6511 and speak to us about how we can help.
Show Less